Texas Democratic Party Delegates & Supporters are Invited,
" F.L.I.P  Texas!" Celebration
Electing Fearless Latinas in Politics
Day 1 TDP Convention, Thursday, June 21, 2018
7 pm – 10 pm
No Cover Charge! FREE Tacos!
Discount $2.50 Beer & Drinks!
Studio Eighty Dance & Night Club
500 Taylor Street, Downtown Fort Worth 76102
(4th St Entrance)
DFW's ONLY 80's Nightclub.
It's like stepping into a time machine. 
Celebrate "Fearless Latinas In Politics" (F.L.I.P.)
&
"The Year of the Woman"
Progressive Candidates FLIP Texas & the U.S. Congress!
DONATIONS Always Welcome to support of our Mission to increase the representation of progressive Latinas in elected and appointed office.
Unable to Attend?
Feel free to mail your donation to:
TLL, P.O. Box 64025, Fort Worth, TX 76164
TRANSPORTATION Options:
– Free Molly the Trolley until 10 pm. http://www.the-t.com/services/molly-the-trolley
– Valet Parking.
– Walking Distance from the Convention Center and the Omni Hotel.
– Free Tower Parking Garage at 5th & Taylor St.

No RSVP necessary – Facebook Invite
Questions?
info@TexasLatinaList.org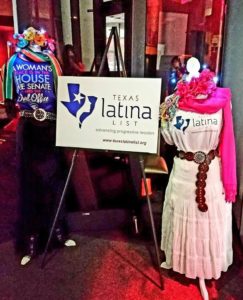 ---
---
---